Order Online
Get your App!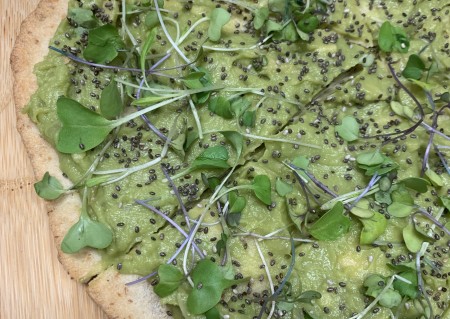 Avocado Toast Pizza
Your choice of crust toast. Smashed avocados, Organic Chia Seeds, toped with organic microgreens. Small size only..
---
0 customers Avocado Toast Pizza! Leave a review to let us know what you think.
You may also like
See those other items from Vegan Pizzas.
---
Spinach, garlic, extra virgin olive oil, vegan mozzarella and vegan feta cheese.

Small 12" 6 Slices

$16.76

Medium 14" Slices 8

$20.00

Large 16" Slices 8

$25.40

XLarge 18" Slices 10

$31.90

Giant 28" Squares 28 pcs

$78.80

Vegan Mozzarella, Vegan Beef Chunks, Portobello Mushrooms, Green Pepper, Red Onions.

Small 12" 6 Slices

$18.92

Medium 14" Slices 8

$21.08

Large 16" Slices 8

$28.65

XLarge 18" Slices 10

$35.14

Giant 28" Squares 28 pcs

$78.80

Vegan Chorizo(GF), Pizza Sauce, Vegan Mozzarella, Fresh Cilantro

Small 12" 6 Slices

$17.84

Medium 14" Slices 8

$21.08

Large 16" Slices 8

$27.56

XLarge 18" Slices 10

$32.98

Giant 28" Squares 28 pcs

$78.80
//See public/shared/blizzfullAnalytics.js BLIZZFULL_ANALYTICS.init(null, 'UA-29981188-3', true);